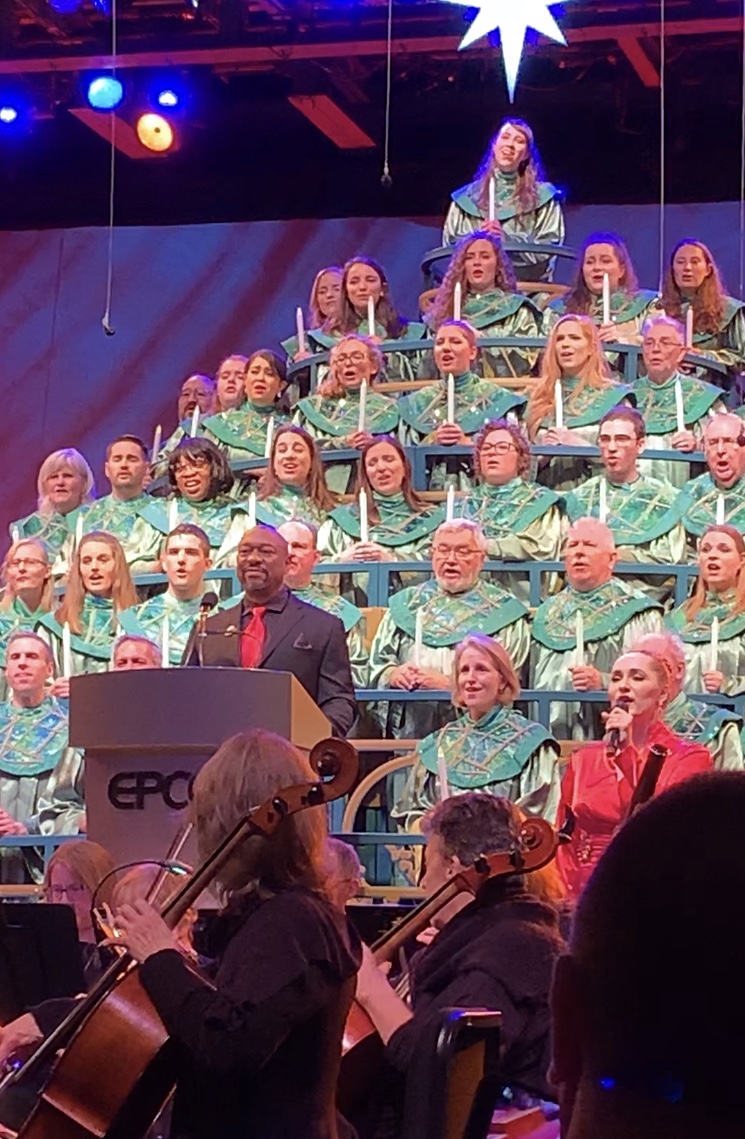 With the Candlelight Processional returning for this year's Epcot International Festival of the Holidays I've heard a lot of discussion about Dining Packages. Most of these conversations have centered around complaints from people who could not make a reservation. That leads to the question, do you really need a Dining Package for the Candlelight Processional or other events such as Garden Rocks?
Before I give my thoughts, let me explain a bit about what a Dining Package is. You make a reservation at one of the participating restaurants and then after you dine you will receive a voucher for seating for the Candlelight Processional. You and those who dined with you will all be guaranteed seats. They won't necessarily be close seats, so it is still a good idea to get in line a bit early.
One thing before I move on. When you make your dining reservation, make sure that it is the Dining Package that you book. Just dining in a restaurant will not get you a voucher.
There are two reasons why it's so hard to get a reservation for the Candlelight Processional Dining Package this year. First, Disney still seems to be limiting capacity in the restaurants. Second, there are only four restaurants to choose from this time around. The only participating restaurants are Biergarten Restaurant, Coral Reef Restaurant, Garden Grill Restaurant, and Rose & Crown Dining Room. That's it! In past years there were restaurants outside of Epcot around Crescent Lake that participated, and there were several around World Showcase. This year, a lot of people are competing for not very many spots.
That takes me back to my original question; do you need a Dining Package? No, you don't. I have never booked a Dining Package and before the pandemic I attended a lot of concerts and shows in the America Gardens Theater. But there are still a couple of things to consider.
The popularity of the celebrity makes a difference. Someone like John Stamos is going to have a lot more people wanting to see him than a lesser-known name. I've been to concerts where the theater was half full, and others where people were standing in the back. If the celebrity or the musical act is extremely popular, show up early.
Another factor is when you visit. Weekends are usually more popular than the middle of the week. Holidays are also going to have more people at the show. Who wouldn't want to hear singer Steven Curtis Chapman tell the Christmas story on Christmas Day? All shows that day will be full, I guarantee it.
We don't know if anything will be handled differently with the Candlelight Processional this year because of COVID-19. A lot of safety precautions have been relaxed, so I don't think that things will be much different. With the America Gardens Theater being an outdoor, open-aired theater I will be surprised if many precautions are taken.
If there is someone who you really want to see and you can get a Dining Package, by all means do it! If you can't, don't worry about it. What I do at Epcot when I want to attend is that I will walk by the theater every hour or so. If the line is starting to get long, I'll get in it. That allows me to not have to stress about getting a Dining Package, and I can still enjoy the show.