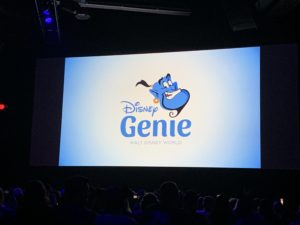 On August 18 Disney Parks Blog announced Disney Genie. I first heard about the new service at the D23 Expo in 2019, but then the world shut down and everything got pushed back. (If you'd like to read a quick overview, I wrote one for Disney Dining.) I'm not happy about the end of FastPass+, but there are some awesome features for the new service. It will help people to decide what to ride and when, based on the most recent data. This is going to take a lot of guesswork out of a day at Walt Disney World or Disneyland.
I'm local, so I won't be paying $15 each time I go to Walt Disney World. I can see myself using Disney Genie+ at Disneyland. We're hoping to go in December, and I was planning on buying MaxPass if it was available. I can see both ways on this, although it stinks that we're going to have to pay for something that used to be included.
There are a few things that worry me, though. Disney technology is glitchy on a good day. What happens if a family of five has paid the extra $75 for Disney Genie+, and then the app fails? I've been to Walt Disney World when Wait Times wouldn't load, or when my Mobile Order wouldn't go through. There have been times when I haven't been able to get on the app at all! More than once my daughter has been at Walt Disney World with friends and I've received a text, asking if I could place a Mobile Order for her because the app wasn't working on her phone. Wi-Fi at Walt Disney World is iffy at best. Should a family burn through their data to constantly use Disney Genie through the My Disney Experience App?
Also, the My Disney Experience App is a battery-drainer. Make sure you have a portable charger, because you will need it. Bring a cord as well, or you won't be able to charge your phone. Your theme park bag just got that much heavier.
When I go on vacation, I like to take in everything that is around me. I don't want to be constantly on my phone. Sure, I'll take pictures, but then I like to put it away. That's one of my favorite things about cruising, it's a chance to disconnect for a few days. Suddenly, we'll be relying more on our devices at Walt Disney World, instead of noticing the amazing small details. Unplugging will be next to impossible.
What about someone who doesn't have updated technology? I don't have the latest iPhone, and I don't own an Apple Watch. Right now I can still use My Disney Experience, but will that always be the case? I have an older tablet that I use sometimes, but I can't use it for My Disney Experience. I can't even download the app because it's no longer available for my dinosaur of a device. People who are still happy with their older electronics are going to miss out.
I'm willing to give Disney Genie a chance, and there are some features that I think are going to help a lot of people. But I'm also skeptical. I was at Disneyland the day that MaxPass first rolled out, and it was a technical nightmare. I'm really hoping that Disney Genie doesn't cause the same type of problems.