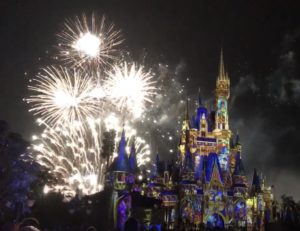 We're just a few days away from the Fourth of July. That means fireworks! (I know that there is much more to Independence Day than just fireworks.) Last year there wasn't much in Central Florida, but this year it's a different story. Here are a few of the places where the sky will light up this year, weather permitting.
Two of the four theme parks will have fireworks this year. You'll find them at the Magic Kingdom and Epcot. Keep in mind that these are not special shows for Independence Day. Happily Ever After will take place at the Magic Kingdom at 9:15. Epcot Forever will run at 10:00.
SeaWorld has a special fireworks celebration for the Fourth of July Weekend. The show will run on July 2, 3, and 4. It will take place at 10:30. Reserved seating is available for an additional cost. SeaWorld currently has a different nightly fireworks show through August 8.
Summer Nights is currently taking place each evening at Busch Gardens Tampa. It runs nightly through August 8, and on weekends after that through September 8. The show is called Spark Fireworks, and it runs at 9:15. There will be a special patriotic ending on July 2, 3, and 4.
Red, White & BOOM will take place for two nights at LEGOLAND. You can catch it on July 3 or July 4. The show will run at 9:00.
Fireworks at the Fountain return this year! It is held at Lake Eola, and this is the 44th showing. The Fourth of July fireworks begin at 9:15, but the party starts well before that. There is no admission fee. If you can't make it but want to feel like you're there, the show will be broadcast and streamed on WKMG.
Old Town in Kissimmee will be holding its fireworks on July 3. The sky will light up around 9:00. There is free entertainment throughout the day, including Luke the Juggler (aka Lucian Fuller or Cool Hands Luke), who used to perform at Disney's BoardWalk.