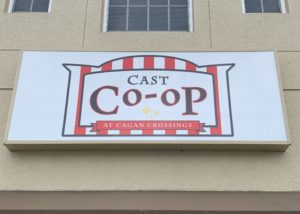 Back in April I covered the ribbon cutting ceremony for Cast Co-Op for Disney Dining. At the time I added the link on Facebook, but right now it's really on my heart to share a bit more here on Disney Over 50. This is an abbreviated version, you can read more about this incredible place here.
Cast Co-Op is an area where hospitality workers who are struggling can show off their side hustles. Many of the people who are there were laid off or furloughed from Walt Disney World. Others have had their hours cut back. The group isn't just for those who worked for Walt Disney World. People who worked in other areas of hospitality are eligible as well.
Even though it's located a short drive from Walt Disney World, you will want to check the hours before you head out. Cast Co-Op changes hours quite often. The website is found here.
If you're looking for a unique gift or souvenir, you could find it at Cast Co-Op. There are many talented people there! There are baked goods, knickknacks that look like they came from a Walt Disney World gift shop, hair bows, bags, and even gifts for your pet. The inventory changes because not everyone is there every day that it is open. If you can't find what you're looking for, talk to the vendors. Many take custom orders.
The other part of Cast Co-Op is that they want to help those who are having a hard time making ends meet. There is a food pantry, and there is even a spot to help with pets. Both physical and financial donations are accepted.
I think that Cast Co-Op is worth the time. I've been back since the ribbon cutting, and I've been thrilled with the things that I've purchased. There is no word on how long Cast Co-Op will be there, so make sure you visit the next time you're in the Orlando area.