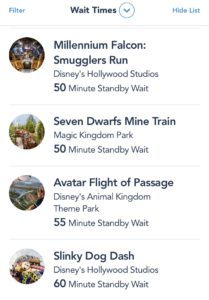 Several months ago I wrote about FastPass+, and how it couldn't really return in the day and age of social distancing. Those guidelines have since been greatly reduced. So is it now time to bring the service back? I can see both sides of this coin, and I don't think that there is a right and a wrong answer.
I have not missed FastPass+. In the early days of reopening it wasn't needed because the crowds were so low. When more people started to visit Walt Disney World, the lines grew longer, but for many rides the lines were still reasonable. As I write this several lines are still short. According to the My Disney Experience App, it's still only a 55 minute wait for Flight of Passage! I've waited that long for the ride in the FastPass+ line. I know that 55 minutes is a long time, but it certainly beats the 240 minute wait that was common two years ago.
My main concern if FastPass+ comes back is whether or not there will be enough to do. The Magic Kingdom wouldn't be a problem, but what about the other three parks? In the past, the shows were a great way to fill in the time between FastPass+ reservations. There are not enough shows right now to fill in those gaps. At Epcot, maybe, but not the other two parks.
I'm still a fan of the old FastPass system, where you didn't book ahead and everyone showed up on equal footing. That isn't just because I'm local and couldn't make my reservations until 30 days out. It's because I liked the spontaneity. The Disney Park Pass System has already taken some of that away, having to try to grab popular FastPass+ reservations on top of theme park reservations would be enough to drive me batty.
Then again, if I were planning a vacation, I would probably want FastPass+ to return. It's nice to know that you'll be able to ride Seven Dwarfs Mine Train and Slinky Dog Dash, without waiting in a long line. I do understand why so many want the service to return.
A side note that probably means nothing. There has been a slight change in the way that Wait Times are described in the My Disney Experience App. They now give the number, followed by "Standby Wait". Many people are taking that as a sign that FastPass+ is about to return. Then again, it might not mean anything. The same change has been made in the Disneyland App, and the FastPass system out there is different than the one used in Florida.
I'm sure that FastPass+ will return at some point. The system was too expensive to dump it. It's also used as an incentive to get people to stay on property, but Disney hasn't had a problem with that lately. I'm fine with the way things are, and I'll also be fine if they bring it back. I wouldn't be fine if Disney suddenly decided to start charging for FastPass+, but we've talked about that before.