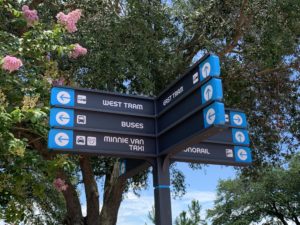 It's been 11 months since Walt Disney World reopened, but many things still aren't the same. Some places that have been closed will open once again, and some things will never return. Then there are other things that are in a gray area. One of those things is Minnie Vans.
First, a slight refresher. Minnie Vans are red SUVs with white polka dots on them. They are driven by Cast Members, but are run in partnership with Lyft. They cost extra, but are convenient. They are clean, have the necessities such as car seats, and the Cast Member drivers will often share interesting tidbits of information. They are a great way to get around.
There is a rumor that many people believe as fact that states that the Minnie Vans will never return. There was one person in a Facebook group who commented on several posts about Minnie Vans that Disney has confirmed that they will never return. That just is not true, Disney hasn't said anything one way or another.
Part of the rumor stems from a picture that was taken at a local car dealership. There were several Minnie Vans parked there, and someone claimed that they were for sale. The SUVs being at a dealership doesn't mean anything. I have heard (unofficially) that the vehicles were leased, not owned by Disney. That could explain why they were there. If the program starts again, I'm sure that each SUV will be brand new. I'm not even sure if the picture was real, it could have been altered.
There are two things that tell me that Walt Disney World is not yet ready to give up on Minnie Vans. First, you can still find the information on the Walt Disney World website. They are listed as "temporarily unavailable". Usually when something is not coming back, it will disappear from the website, but there are currently two different pages devoted to Minnie Vans! The second thing that tells me that they're coming back can be found in the theme park parking lots. There are still signs for where to go for Minnie Vans. It would be easy enough to change the sign and pretend that Minnie Vans never existed.
I could be wrong. Minnie Vans might be gone for good, but I doubt it. If I had to guess, I would say that they could be running again in time for the Walt Disney World 50th Anniversary on October 1. That is going to be a crazy few days for people who are relying on Disney transportation, and Minnie Vans could help to ease some of that burden. They would be making extra money for Disney at the same time. I hope that I'm right, I miss seeing Minnie Vans.