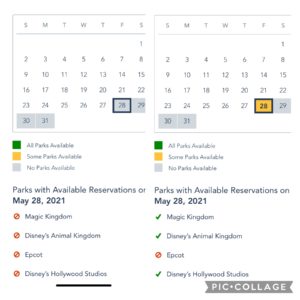 Something weird has been going on with the Availability Calendar. I have no idea what (if anything) it means, but I thought I'd share my observations with you.
This has been a busy week at Walt Disney World. At the beginning of the week I noticed that all three categories were filled for the rest of the month. It's a holiday weekend and the schoolyear is ending in some areas, I wasn't surprised that there weren't any openings.
Tuesday evening I refreshed the calendar (I almost always have it open) and noticed that the date was green for Annual Passholders. I thought it was some weird glitch. I then checked the other two categories, and they had availability in all parks but Epcot. Out of curiosity, I tried to see if I could get a reservation. I was able to make them for all four parks. Don't worry, I canceled them immediately. I won't hold a reservation that I'm not going to use, even if it's late in the day.
I still thought that this was a glitch, but then it happened again on Wednesday. All four theme parks opened up reservations late in the day for Annual Passholders, and the other two categories only had Epcot not show availability. On Thursday when I looked there was nothing for Annual Passholders at Epcot, but the other three parks showed openings. I tried and couldn't get a spot at Disney's Animal Kingdom, but strangely I could at Epcot.
Today I watched it a little bit closer. At around noon Disney's Animal Kingdom opened for ticket holders and resort guests. An hour later Magic Kingdom was also a possibility. As I write this everything but Epcot is open for those categories. Annual Passholders show availability for Disney's Animal Kingdom, but I tried a little while ago and had no problem getting a reservation in any of the theme parks.
I don't know if Disney is adding spots as the day goes on, or if this is a glitch. We already know that capacity is slowly being raised, maybe this has something to do with that. I thought I'd mention this to remind you to not give up if you want to head to Walt Disney World last minute! As an Annual Passholder, I've missed being able to drop everything to head to a park late in the day. Maybe those days will be back soon.