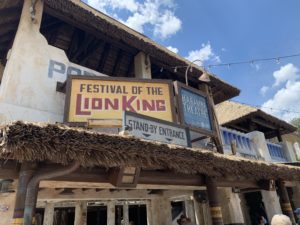 As you might have heard, Festival of the Lion King is back at Disney's Animal Kingdom. The show is now called A Celebration of Festival of the Lion King. That means that there are changes because of safety guidelines. I saw the show on Monday, May 10, and since there have been rumors running rampant I thought that I'd let you know what to expect.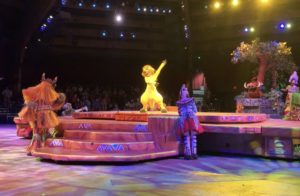 I'll start with the sad news first. There are no monkeys in the current production. I guess they couldn't find a way to include that part safely. Timon is still part of the show, he just doesn't have any monkeys to drive him crazy.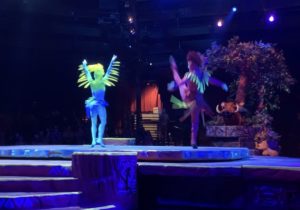 The other major change that I noticed was in the dance for Can You Feel the Love Tonight. There are still two dancers, but the choreography is all new. There is no flying, it's all on the ground. The dancers don't touch. It's still a beautiful part of the show. If you aren't familiar with the full version of Festival of the Lion King you won't think that anything is different.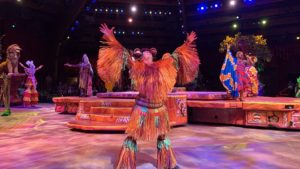 The blocking has been changed for the whole show to keep the performers apart, and honestly, it works. Instead of interacting with each other, the dancers are interacting more with the audience. There are no volunteers now, and the room isn't divided by animals. Instead, at one point the audience is divided between clapping and waving. I was in the clapping section, and we totally rocked it.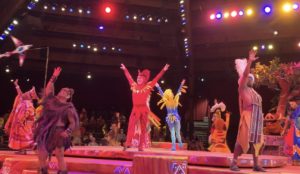 One rumor that I heard several times was that there would be no singing. I am happy to report that this rumor was as ridiculous as it sounds. This show wouldn't work without the glorious voices, and they were all "in perfect harmony" (Can You Feel the Love Tonight pun intended) for the whole show. The energy of all of the performers was through the roof. The crew wore face masks and face shields, the cast did not.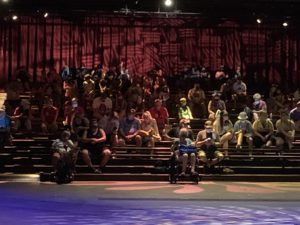 The theater felt empty. The benches are divided for groups of up to four people. This starts outside, when you line up each marker for social distancing represents one block of seats. If the party had more than five to eight people, they were asked to take two lines. That gave the Cast Members a good visual for when to cut off the line.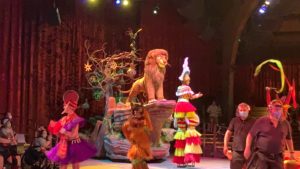 If you go, plan to arrive early. We were in line for over an hour and barely made it in. A Celebration of Festival of the Lion King is currently in technical rehearsals. The show officially reopens on Saturday, May 15. There are some differences, but it is still fantastic. I can't wait to see it again.