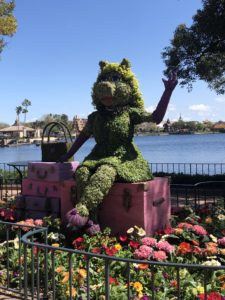 Recently someone asked me what is the first thing that I like to do if I haven't been to the Walt Disney World theme parks for a while. She expected me to name a ride (and if I had it would have been Rise of the Resistance). My answer surprised her. I told her that I just like to go and take it all in.
I am not suggesting that you have a once in a lifetime vacation and don't ride anything. Of course you're going to want to ride as many things as possible! What I am suggesting is that if you have the luxury of visiting often, or if you can afford to add an extra day to your vacation, a day without rides could be your best day ever.
At Epcot this is easiest to do during a festival. There is so much extra going on that you won't even think to check the Wait Time for Test Track! Even if there is no festival, not riding is simple at Epcot. Plan to spend the day in World Showcase, looking at the details. You're sure to find something that most people will never notice.
Disney's Animal Kingdom has the animal trails. Those are fun to explore, especially when you aren't worried about how long the wait for Flight of Passage is. I also enjoy spending time in Pandora. If the park is open after dark you need to stop by after the sun goes down. The crowd could be lighter, and the land comes alive.
It's hard to not ride something at the Magic Kingdom, because there are so many rides there! Lately my favorite thing to do when not riding is to look for characters. I'll start in Frontierland to watch the beginning of a Character Cavalcade, and then rush over to Main Street, U.S.A. to catch it again. There are also random characters throughout the park, it's fun to see who I can find. Of course, one of the best things about being at the Magic Kingdom without riding anything is to just soak up the atmosphere. Walk around Cinderella Castle, and see it from as many angles as possible. There's a reason why it's called the "Magic" Kingdom.
My favorite park is Disney's Hollywood Studios, and it's also the one that I visit without riding anything the most often. I could (and often do) spend hours in Galaxy's Edge. There are so many minute details that I discover something new each time! I also love the sounds of Galaxy's Edge. Whether it's a TIE Fighter overhead or a creature in the bushes, it feels real to me. I love to wander through the rest of the park as well. I still enjoy looking at the footprints in Toy Story Land, and listening to the screams that are coming from the Hollywood Tower Hotel.
I know that not riding anything is not something that will appeal to everyone. Still, it's something to think about. Even if you don't want to spend an entire day that way, consider taking an afternoon off from rides, or at least a couple of hours. Every inch of Walt Disney World is special, and spending some time with a little less stress might help you to see exactly how special some things are.