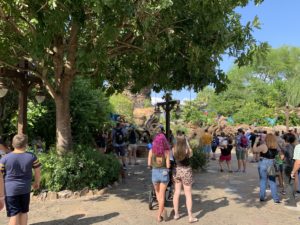 If you've checked the Walt Disney World Availability Calendar lately, you might have noticed that Disney Park Pass Reservations are scarce for the end of March and the beginning of April. It's been that way for a few weeks, and many people wonder why. The short and simple answer is that it's because of Spring Break. That leads to the question, when exactly is Spring Break? The answer to that question isn't as simple as you might think.
In general, Spring Break starts in the middle of February, and runs until the middle of April. If Easter is late, it could extend a bit longer than that. This of course does not mean that there are kids out of school that entire time. Some schools have a week off in February that coincides with Presidents' Day. That is usually the beginning of higher crowds at Walt Disney World.
From there, various school systems will have their weeks off. The same is true for colleges. Unlike Christmas, which almost everyone has off, there is no set schedule across the country. Many of the school systems that take a week off in February also take a week off in April, around Patriots' Day (April 19). Those who didn't visit in February might decide it's time for a vacation, and Annual Passholders often visit for both.
Easter is another factor in the Spring Break equation. There are school systems that will take the week before Easter off. There are school systems that will take the week after Easter off. Some school systems will take the break the week before Easter if the holiday is late in the year, but the week after if it's an early Easter.
Another question often asked is when do the Florida schools hold Spring Break? The answer to that one depends on the county. Florida does not have a set calendar for the schools, the counties are in charge of their schedules. If you're hoping to avoid lots of locals, the Florida schools in the area are usually out in early to middle March. With the current limited capacity, the locals might not be as much of a consideration, but once capacity increases it could be something that you want to keep in mind when planning a Spring vacation.