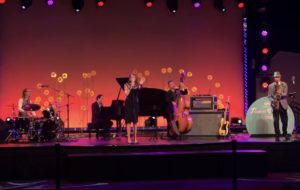 The Taste of Epcot International Flower & Garden Festival is underway. Like the other festivals, this one is modified. One thing that is missing sadly is the Garden Rocks Concert Series. That does not mean that there won't be special entertainment this time around. Disney has come up with a great alternative.
A new concert series is taking place for 2021. It's called the City Beautiful Bandstand. "The City Beautiful" is the nickname for Orlando, and this series features local artists! It will take place Fridays through Mondays in the America Gardens Theater.
It can be hard to find the schedule for the City Beautiful Bandstand. I've seen it appear and then disappear more than once on the Walt Disney World website. I was able to find it, so I thought I'd add it here for safekeeping. Remember, schedules can change and concerts can be canceled with little or no notice.
EPIC! is a pop band. Motown in Motion is Motown and R&B. Vintage Vinyl Band features vintage pop cover songs. The Hooligans perform pop songs from the 80s and 90s. The Spazmatics will play some of your favorites from the 1980s. Latin Ambition is a Latin pop band.
Here's the schedule:
March 5-8 EPIC!
March 12-15 Vintage Vinyl Band
March 19-22 Motion is Motown
March 26-29 The Hooligans
April 2-5 The Spazmatics
April 9-12 Latin Ambition
April 16-19 EPIC!
April 23-26 Vintage Vinyl Band
April 30-May 3 Motion is Motown
May 7-10 The Hooligans
May 14-17 The Spazmatics
May 21-24 Latin Ambition
May 28-31 EPIC!
June 4-7 Vintage Vinyl Band
June 11-14 Motion is Motown
June 18-21 The Hooligans
June 25-28 The Spazmatics
July 2-5 Latin Ambition