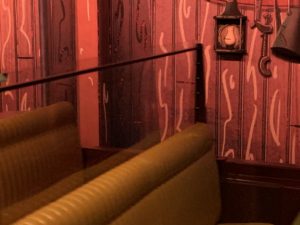 It's hard to believe that one year ago today (March 4) Mickey & Minnie's Runaway Railway opened! The first Mickey and Minnie based ride on the planet was the final piece in the Disney's Hollywood Studios puzzle. I miss The Great Movie Ride as much as the next person, but I really love this ride.
With social distancing measures in place, most people who have ridden have missed one of the most important parts. The preshow is called The Perfect Picnic, and it sets up what takes place on the ride. I found it on YouTube and added it at the bottom, I recommend that you watch it before you go because things will make much more sense with the back story. I really miss the preshow, and hope that Disney finds a way to bring it back soon.
When Walt Disney World reopened, the line for Mickey & Minnie's Runaway Railway was always long. Since Disney has been keeping the queues outdoors as long as possible many pictures were added of the insane looking line. Disney has since added plexiglass barriers to the cars to double capacity. This has helped with the Wait Time, but the barriers are reflective, which is annoying at times. Fortunately there's enough going on with the ride that you can almost forget about the plexiglass for most of the time.
Even with the plexiglass, the line for Mickey & Minnie's Runaway Railway remains long most mornings. I've found that it's much easier to ride later in the day. Disney's Hollywood Studios tends to clear out once Park Hopping begins at 2:00. I've been able to almost walk on at the end of the day. That might not always be the case, but it has been my experience several times.
Don't forget to look for Hidden Mickeys. They are everywhere! You'll find them in the queue and throughout the ride. There are so many Hidden Mickeys that no one will ever find them all. If you or a member of your party is new to finding the shapes, this is a great way to get your feet wet.
One of my favorite parts of Mickey & Minnie's Runaway Railway is the secondary story. In the preshow, Pluto (and the picnic basket) are separated from Mickey and Minnie, and throughout the ride he's trying to catch up with them. He is found in each scene, you just need to look for him. Pluto proves that he's a good dog, because he doesn't eat the food in the basket. How many dog owners can say that their dog would behave that way?
I personally think that Mickey & Minnie's Runaway Railway is a ride that you need to experience more than once. There is just so much to take in! I've ridden more times than I can count, and I still see something new in each scene. Happy First Anniversary to an incredible ride. And Happy Anniversary as well to Vacation Fun, which plays in the Mickey Shorts Theater. The film is really funny, and it's a great way to take a break in the middle of your day.