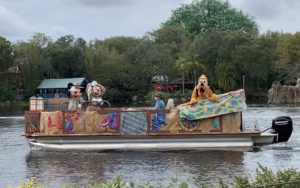 One thing that I have enjoyed immensely since Walt Disney World reopened is the Character Cavalcades. I can see some of my favorite characters, and there isn't a lot of waiting around like during a normal parade. It has been a great solution to the character problem, since normal meet and greets are not a good idea right now.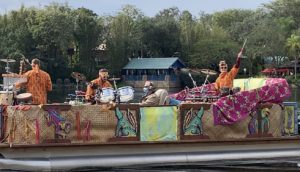 Without a doubt, my favorite park to see the Character Cavalcades in is Disney's Animal Kingdom. There they are known as Character Cruises, and they are so simple that they are brilliant. At Disney's Animal Kingdom, the characters just cruise along the Discovery River. There are usually two or three characters each time, but if it's drizzling it could be only one. The Discovery Island Drummers are also a cruise, and they are a blast to watch.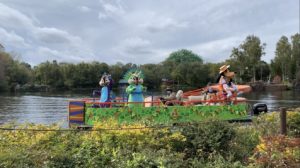 If you want to see the characters as close as possible, the best place is on the bridge between Pandora and Africa. I have a new favorite spot, though. It may not be quite as close, but there is still plenty of interaction with the characters, and I can sit down and relax while waiting.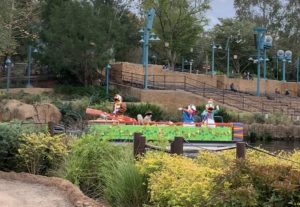 My new favorite spot to watch the Character Cruises is in the Rivers of Light seating areas. If you sit on the DinoLand USA side you'll be closer to them when they leave for their journey. Sit on the Asia side to be closer when they return. Either side is great, but when I've been there the DinoLand side has had fewer people.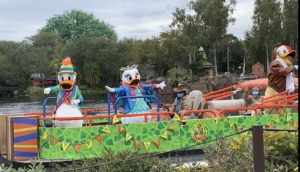 What I like to do is to grab a cup of coffee or water, and then head down to the front row of seats. I'll stay away from others, and slowly enjoy my beverage. The characters will sail out from the spot between the two seating areas. In this area you will see them both when they leave and again when they return. I've even seen two Character Cruises at once, passing each other near the middle of the open water. The characters are as excited to see each other as they are the guests.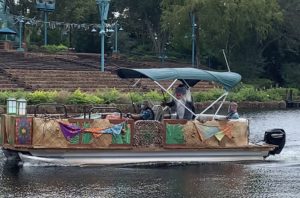 A day at Disney's Animal Kingdom can be hectic, so a few minutes of downtime will help you to recharge. The Rivers of Light Theater is the perfect place to do that, and you get to see some of your favorite characters at the same time. I'd call that a win.