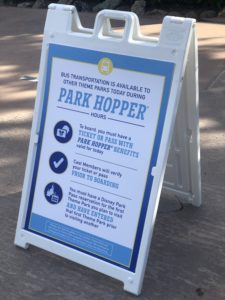 Park Hopping returned on January 1, but it is a little bit different right now. You need to make a Disney Park Pass reservation at one of the four theme parks, and you need to enter that park before you hop to another one. You can't Park Hop until after 2:00. Capacity is still limited, so call the Park Hopping Hotline after 2:00 to find out which parks you can hop to. I've been told that so far there hasn't been a park without availability after 2:00, but that wasn't from an official source. January is usually a quiet month at Walt Disney World, so availability could change once Spring Breaks start to roll around.
I haven't Park Hopped a lot since its return, but I have done it. I've made a few observations that I'd like to share. Remember, this is all from my own personal experience. Someone else might have observed things quite differently.
I'll start with something that I was worried about when the announcement was first made. I was concerned that if you did not show up before 2:00 that you would lose your Disney Park Pass Reservation. Fortunately, that is not the case. Your reservation will be honored, even if you walk in right before closing. Remember, you do not need to have a reservation for the second park. In fact, the system will not allow you to make one.
Disney's Hollywood Studios seems to clear out later in the day. It tends to be busy early, because people are trying to get on Rise of the Resistance. You need to have a reservation for Disney's Hollywood Studios to get a spot in the Virtual Queue, which is why it's still the hardest park to get a reservation for. We were there the last few hours of the day on a weekday and it was glorious! We rode several rides with short waits, including Mickey & Minnie's Runaway Railway.
Epcot is a different story. Since it's the park that is open the latest, the crowd did not thin out when I was there. It was a Sunday night, and it was packed. I think it was the busiest that I've seen any of the parks since they reopened. If you want to hit Epcot for the rides, you might want to make it your first park.
The Magic Kingdom is what it is. It has the most rides, so many people will stay all day. It's popular to hop to because nothing beats seeing Cinderella Castle after dark. When the days get longer and the Magic Kingdom closes before sunset, I expect that it won't have as many people hopping at the end of the day, but that's speculation.
Disney's Animal Kingdom opens early and closes early. I did notice a difference in the crowd level after 2:00. The problem with Animal Kingdom right now is that it closes at 5:00, which means that you'll only have three hours in the park. Still, you might be able to do quite a bit in those three hours, especially if others have headed to another park.
In case you've been wondering, the Four Park Challenge is still possible. If you want to try, make sure you check the hours for all four parks. If you don't plan things out, you'll run out of time.