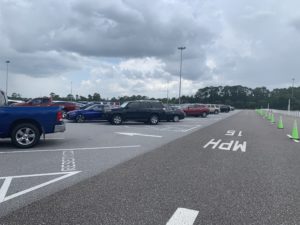 The announcement that Disney's Magical Express is in its last year has led to a lot of discussion about how people will get to and from Orlando International Airport. One option that is being thrown around quite a bit is renting a car if staying on property. I'd like to talk about it now, while Disney's Magical Express is still available. Does renting a car now make good financial sense, especially if money is tight? It can, and here's why.
The main thing that you need to keep in mind is how much your time is worth. If you don't have a car, you will need to rely on Disney transportation for your entire vacation. With social distancing in place, the lines to get to the theme parks in the morning and then again at the end of the day can be quite long. If you have a car, you won't have to wait in those lines, you can just get in the rental and go. Your schedule is yours.
With the return of Park Hopping, having a car is nice. Instead of waiting for the bus to get to the next park, all you need to do is walk to your car and then drive. Some people do prefer to take the bus to the next park, but since capacity is limited on the buses it's nice to be able to drive. Once again, it's all about how much your time is worth.
If you have a car, you will need to pay to park at your resort. But theme park parking will be free, so it kind of evens out. I know that a lot of people aren't happy with the resort parking fee, but unfortunately that's just the way that many hotels work these days.
There is another way that you can save if you rent a car. You will be able to save quite a bit on food. Your room will have a refrigerator, so once you arrive head to Publix or Target (I will never recommend the local Walmarts, they're zoos) and pick up some milk, cereal, and snack items. You probably will not have a microwave, so keep that in mind. You can heat water in the coffee maker in your room and make oatmeal for breakfast. Bring some snacks into the parks with you, and maybe soda or bottled water. Have lunch at the park. Since the parks close early these days, have dinner at a local restaurant in the evening. There are plenty of places to eat that are close to Walt Disney World that cost significantly less. The amount of money that you save on food could pay for the rental car.
A rental car can also help you to save on souvenirs. You won't find a store near Walt Disney World that doesn't have T-shirts, hats, backpacks, and plenty of other merchandise. They may not say Walt Disney World on them, but you'll still find items that you love that will help you to remember your vacation. If you want things that are official, drive to one of the local Disney Character Outlet stores. You'll find significant savings. Right now give yourself plenty of time, because capacity in the outlets is limited.
Renting a car also gives you added flexibility in your vacation. If you want to head to some of the other local attractions, it's easy. Without a car, you'd probably have to take a ride share or taxi. Want a beach day? That's no problem if you have a car. Watch the sun rise over the Atlantic and set over the Gulf of Mexico. That is an amazing experience, and one that you have to leave the Disney Bubble for.
When I rent a car, I usually will do it through Expedia. I won't pay ahead of time, and canceling last minute has never been a problem. Make sure you read the reviews before you book, because there are a couple of shady rental car companies in the Orlando area. Also, do your search on a private browser, or clear your cache after your search. Otherwise, Expedia (or another third-party company) will store your search and the price will go up if you don't book right away.
I'm not saying that it is essential to have a car at Walt Disney World. Thousands of people visit each year without one, and they have magical vacations. Still, a rental car might be an added expense that can pay for itself in both time and outside-of-the-parks savings. It's worth considering.