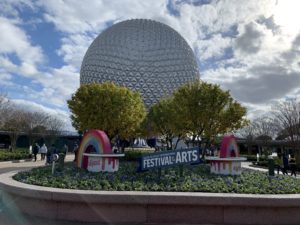 Yesterday (January 8) was the first day of the 2021 version of the Epcot International Festival of the Arts. Like the other festivals, this one is modified. This year's version is known as the Taste of Epcot International Festival of the Arts. I was there yesterday for opening day. Festival of the Arts has become one of my favorite current special events at Walt Disney World, and they have done a fantastic job this year.
There are a few things missing, but there is still so much going on that you can't help but have a great time. There are special booths with artwork for sale everywhere! The photo opportunities where you can become part of a famous piece of art are back. The paint-by-numbers mural and the chalk art are back as well. Voices of Liberty are performing in the America Gardens Theater, singing classic Disney tunes. Mariachi Cobre is in the theater as well.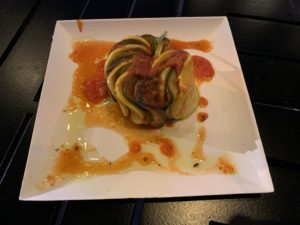 One of the main draws for any festival at Epcot is the special food kiosks. This year there are about 15 Food Studios. They feature both returning classics and new offerings. I did find the prices a bit on the high side, but the portions for the two dishes that I bought were also quite large, so I guess it evened out.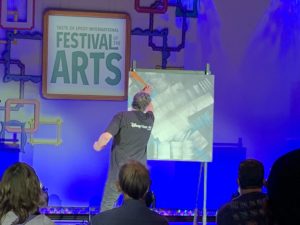 Don't forget to stop by World Showplace. There are a couple of Studio Kitchens inside, as well as more art booths. You'll also find plenty of entertainment. The Epcot Pianist performs daily, plus there are some special performances that are exclusive to Festival of the Arts. Art Defying Gravity is a show of strength, balance, and agility. That takes place daily. Thursdays through Sundays you'll want to check out Visual Art in Performance. This is one of my favorite parts of Festival of the Arts. Artist Trevor Carlton turns a mostly blank canvas into a Disney character, in about 15 minutes. It's a high energy show that is not to be missed!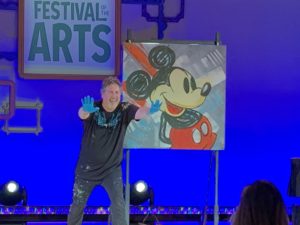 The construction walls are not as annoying during Festival of the Arts, because they are now art themselves. There are giant butterflies that are great photo ops. With Drawing on Inspiration, two Imagineers used one wall to show you Epcot today and yesteryear with their takes on classic attractions. Sad thing was that many people ignored the artwork as they walked by, they totally missed out.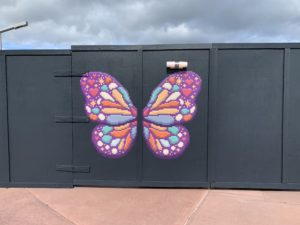 If you love the scavenger hunts, this time it's Figments Brush with the Masters. Buy a map, look for Figment, place the stickers on the map, and turn it in for a prize. Remember, you don't have to have a kid with you to do the scavenger hunts. Plenty of kid-less adults love them.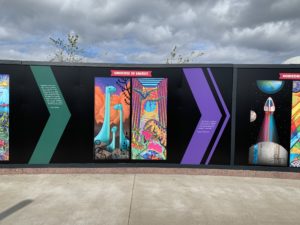 Those are some of the highlights from the 2021 Taste of Epcot International Festival of the Arts. I'll probably add more information and some tips over the next few weeks. Festival of the Arts runs through February 22, and it is included with Epcot admission. This festival is so much more laid back than the other three festivals, even though there is something around every corner. If you have never checked it out and you can travel safely, I encourage you to make your plans now!