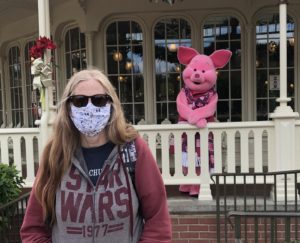 Yesterday I apologized for an older picture that I shared on Facebook that caused some confusion. It was without a mask, because the picture was taken long before anyone had heard of Coronavirus. Something else has happened that I won't go into details about, but I thought I'd put this out there so that I can finally put the situation to rest in my mind.
I add a lot of older stuff on Facebook. I run this site by myself, with some help from my daughter. I have had exactly one guest post in almost three years. A lot of what I wrote two years ago is still relevant today, so I will often add a link on Facebook to older material. The information is still good, but some of it might not work with the current situation. That's why there could still be a mention of FastPass+ or the Disney Dining Plan. I am not going to rewrite every post because things are different for now. If you read something and are confused, check the date at the top. It's clearly marked when I first wrote it. I'm not trying to trick anyone or share false information. If I add the link on Facebook, I think that someone might find some value in it.
I also add a lot of old videos and pictures. I have been blessed to attend many incredible events, and I want to share these things with you. Sometimes I'll do #ThrowbackThursday or #FlashbackFriday, but often I don't. I'm not trying to fool anyone, but I don't usually put the date that a picture or video was taken.
If you ever have a question or a concern about something that I post, please don't hesitate to contact me. The easiest way is probably through the Contact Me page on my website. It's on the very bottom of every post. You can also reach me through the Disney Over 50 Facebook page. Instagram is iffy, because I don't always receive messages there, but you can try. If you're upset, please don't write a vague comment in all caps on Facebook. I'd like to know what you're upset about so that I can explain it or fix it.
I also want to thank all of those who support me. I think of Disney Over 50 as a community, and there are some incredible people in this community! I appreciate the fact that everyone keeps things G-rated and family friendly. I started this blog when my sister and her husband were planning a trip with her kids and grandkids, and I always keep them in mind when I write.
Again, I am always open to suggestions on what you want to hear about or answers to questions that you might have. I'm lucky enough to live just a few minutes from Walt Disney World, and I love to share my experiences with you. Again, the easiest way to contact me is through the Contact Me page. Now here's hoping that there is no more confusion, and that tomorrow I can find something interesting that's Disney-related to write about!