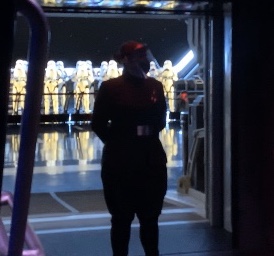 When I started to think about the best Walt Disney World related thing from 2020, my mind automatically went to Mickey & Minnie's Runaway Railway. After all, it's the only new E-ticket attraction from the year. Somehow, though, that seemed too easy. I started to think a bit more about the subject.
My next thought was safety. In a year when going to the store can be an ordeal, Walt Disney World has become a safe haven. The company has put protocols in place which allow us to have a good time and forget about the real world for a little while. It's been great to be able to have that opportunity.
Thinking about safety made me decide what I truly think is the best thing about Walt Disney World from 2020. My pick is the Cast Members. These are the people who are responsible for making the magic, and they have worked extra hard to do just that in this uncertain year. Most Cast Members work for Disney because they love it just as much as we do. It isn't for the money, because there are better paying jobs. They work there for you and me.
It's been a really hard year to be a Cast Member. There has been so much uncertainty, and many have lost their jobs. Even through all of this they have continued to make magic. Cast Member created organizations such as Cast Member Pantry and Cast Member Toy Box have allowed their fellow Cast Members to continue to feed their families and ensure that the kids had a nice Christmas. The Ear for Each Other Facebook group has grown beyond anyone's expectations. On that page furloughed and laid off Cast Members can "advertise" their side hustles, and all members can find products and services. It's a win win.
I know that not all Cast Members are perfect. I've seen a few lately who do not seem to fit the Disney mold. Still, most have been wonderful. I know that people have bad days, and that they worry about paying their bills, catching COVID, helping their kids with school, getting laid off, etc. They still show up with smiles on their faces. We can't see those smiles right now, but with many Cast Members you still know that it's there.
So thank you, Cast Members, for all the magic. You're my pick for the best thing at Walt Disney World in 2020.