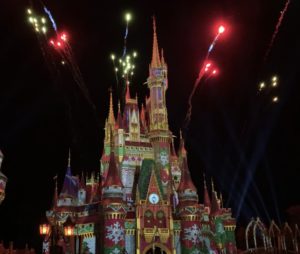 Two years ago during the holidays I spent a few days talking about my favorite things about the holidays around Walt Disney World. My list would have been the same for 2019. The 2020 Christmas season looks quite different than last year! All of my favorites from the past have been either modified or were canceled this year. I thought that it might be fun to rewrite the list this year, since 2020 is a year unlike any other.
Last time my favorite holiday offering at the Magic Kingdom was Mickey's Very Merry Christmas Party. What's not to love? The party is the definition of holiday magic. In five hours you can see a special parade and fireworks, enjoy cocoa and cookies, and meet rare characters. There's snoap on Main Street, U.S.A.! Since capacity is limited there are shorter waits for the rides. Even though you need a special ticket, it's a fantastic way to find some holiday cheer.
For 2020, Mickey's Very Merry Christmas Party was canceled, so I needed to find a new favorite. This wasn't difficult. I really love projections, and I think that the Cinderella Castle Holiday Projections are incredible.
Don't get me wrong, I love the Dream Lights as much as any Disney fan. But I also agree with Disney's decision to not put them up this year. Thousands of Cast Members have lost their jobs, and an outside company will hang the lights each year. It's not fair to pay outsiders when their own loyal people are out of work. I don't know if the cost is the only reason that there are no Dream Lights this year, but I'm sure that it played into the decision.
If you watch video of the fireworks that debuted during Mickey's Very Merry Christmas Party last year, you might notice something familiar. Some of the scenes from Minnie's Wonderful Christmastime Fireworks were used for this year's projections. There are four different scenes, and each lasts for 15 minutes. It's fun to watch the scenes change, and there is a burst of fireworks when it happens. It's nice to see fireworks again, even if it's just for a moment. My favorite scene is the Christmas sweater, but they're all gorgeous.
I don't know what the 2021 holiday season will look like. Experts keep saying that things will "return to normal" in a few months. I would be shocked if Disney doesn't bring back the Dream Lights next year because they are iconic. That means that 2020 could be the only year that we experience the Cinderella Castle Holiday Projections. I'm glad that I took plenty of pictures!
Here are my favorite 2020 offerings at Disney Springs, Disney's Animal Kingdom, Disney's Hollywood Studios, and Epcot.