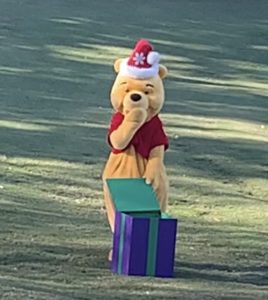 Two years ago during the holidays I spent a few days talking about my favorite things about the holidays around Walt Disney World. My list would have been the same for 2019. The 2020 Christmas season looks quite different than last year! All of my favorites from the past have been either modified or were canceled this year. I thought that it might be fun to rewrite the list this year, since 2020 is a year unlike any other.
My past pick at Epcot was the Candlelight Processional. It's probably my favorite Christmas offering at Walt Disney World, and one of my favorite special events all year long. I'll always check the list to see who is narrating for the first time because it's incredible to see their reactions. It really does seem to touch the celebrity narrator in a special way.
All of the crowd-gathering extras that take place in the America Gardens Theater were canceled because of COVID-19, so that meant that for 2020 I needed to find a new favorite holiday offering at Epcot. I didn't have to go far, just to The Land in Future World. Winnie the Pooh was my first friend, I still have my stuffed Pooh Bear as I've always called him from when I was a baby. I learned to read in my father's lap, exploring The Hundred Acre Wood. When Epcot reopened last July, I learned almost immediately to head to the right as I entered, hoping that Pooh would be out with his butterfly net. And then the Christmas Season started.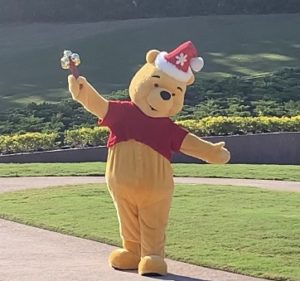 Winnie the Pooh and the Christmas present is something that I could watch all day. He walks out onto the field and discovers the box. It takes him a while to open it, trying to get the people watching to help him decide if he should or not. When he finally does open it, there are jingle bells inside. From there, he will interact even more with those who are watching. I've seen him lead a group in the song Jingle Bells, and it was precious. Joy still appears in the area and she is fun to watch as well, but Pooh will always be my favorite.
I hope that once things return to some semblance of normal that Disney will still have Winnie the Pooh playing outside, but I doubt that will happen. He will probably return to a normal meet and greet, and there is nothing wrong with that. I'm glad that I was able to experience what will probably be a one-year-only offering. Winnie the Pooh and the Christmas present is Disney magic at its finest.
Here are my favorite 2020 offerings at Disney Springs, Disney's Animal Kingdom, Disney's Hollywood Studios, and the Magic Kingdom.