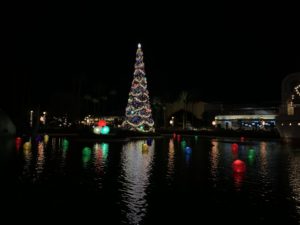 Two years ago during the holidays I spent a few days talking about my favorite things about the holidays around Walt Disney World. My list would have been the same for 2019. The 2020 Christmas season looks quite different than last year! All of my favorites from the past have been either modified or were canceled this year. I thought that it might be fun to rewrite the list this year, since 2020 is a year unlike any other.
I miss the Osborne Family Spectacle of Dancing Lights as much as the next person, but I really enjoy its replacement. Sunset Seasons Greetings brought different projection scenes onto the Hollywood Tower Hotel. The concept grew each year, adding in lasers and snoap. There were also some videos that related to the projections, and there was music. It was wonderful!
For 2020, Disney got rid of many parts of Sunset Seasons Greetings. The projections are still there, and they call it The Hollywood Holiday Tower Hotel. There are four different scenes, and they change every five minutes. Don't get me wrong, I love the projections. Honestly, though, they are not my favorite part of Christmas this year at Disney's Hollywood Studios.
This year I am mesmerized by the decorations in Echo Lake. Disney has been doing this for a few years now, but I never fully appreciated them before. The tree is in the lake, and there are giant ornaments in the water. Dinosaur Gertie is Santa Gertie, and she looks so festive during the day. (She's a little bit creepy at night, but that's true all year long.) The decorations are incredible during the day, but they are even better after dark. This is my favorite of the four theme park trees, and the reflection of the lights in the water is gorgeous. The same is true of the ornaments in the water. They also light up beautifully. Each time I've been to the park after dark I've said I wasn't going to take more pictures, and each time I lied. It's that stunning.
If Sunset Seasons Greetings returns in full next year I will probably move that back to the top of my list. But I will also take the time to admire the decorations in Echo Lake. I have a newfound appreciation for them.
Here are my favorite 2020 offerings at Disney Springs, Disney's Animal Kingdom, Epcot, and the Magic Kingdom.