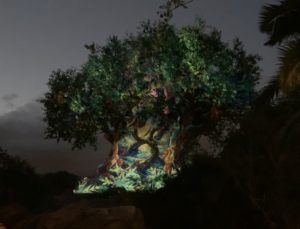 Two years ago during the holidays I spent a few days talking about my favorite things about the holidays around Walt Disney World. My list would have been the same for 2019. The exception would be Disney's Animal Kingdom, because they didn't do Christmas right until 2019. The 2020 Christmas season looks quite different than last year! All of my favorites from the past have been either modified or were canceled this year. I thought that it might be fun to rewrite the list this year, since 2020 is a year unlike any other.
Last year Disney rolled out the Merry Menagerie at Disney's Animal Kingdom. It was incredible! Puppeteers strolled through Discovery Island with puppets of winter animals. There were polar bears, penguins, and many other creatures. The puppets would interact with the guests, and they seemed so lifelike! It was beautiful, and everyone seemed to love it.
Merry Menagerie was very up-close, which is not advisable this year. Right now there are extra animal figurines of some animals throughout Discovery Island and they're beautiful (especially after dark), but it's obviously not the same. That is not my favorite holiday offering at the park this year. In 2020, I am mesmerized by the Tree of Life Awakenings – Holiday Edition. Disney did offer this last year, but for some reason this year it's just needed.
Tree of Life Awakenings – Holiday Edition begins at 6:00 in the evening. That's been a bit of a problem on some days, because the park often closes at 5:00, so guests miss out. If Disney's Animal Kingdom is open late I like to grab a spot with a good view of the Tree of Life a few minutes before 6:00. Right at 6:00 there is a short show where the park's icon comes to life. It's beautiful.
After the show is over, there are still projections on the tree. I've been twice after dark this holiday season. The first time it was one basic scene for the rest of the evening, the second time there were several short projection scenes that ran every few minutes. Either way, it was hard to not watch for a while.
If you're worried about people crowding around you on Discovery Island, head to the back of the park. The last time I was there I realized that the projections ran on both the front and the back of the Tree of Life. The pathway between Africa and Asia had several good places to watch from, and there were not many people watching.
The Tree of Life is an amazing structure any time of day, and it is always beautiful at night. But there is something special about it during the holidays. I am glad that I was able to truly enjoy it this Christmas season.
Here are my 2020 favorite at Disney Springs, Disney's Hollywood Studios, Epcot, and the Magic Kingdom.