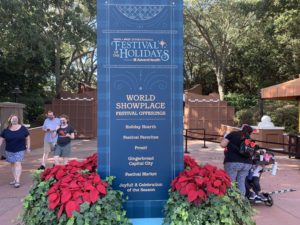 I thought it might be a good idea to spend a few moments talking about World Showplace at Epcot. With the current construction the building is being utilized for the festivals, but many people have no idea where it is, or even what it is.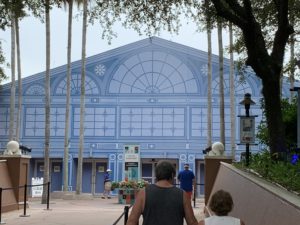 I'll start with the where. If you enter Epcot's front entrance and walk towards World Showcase, you can turn either right or left. If you go to the left, you'll see Mexico. Go right, and you'll be at Canada. (This is by design, by the way. I've been told that Disney purposely put the two countries that border the United States at either side of the World Showcase entrance.) To get to World Showplace, head to Canada. Walk past the pavilion, then look to your right. There is a white-ish building way in the back, before you reach the United Kingdom. You have found World Showplace.
Now for the what. Part of the reason why many people don't know what World Showplace is has to do with the fact that in the past it was used for special events. The first time I ever entered was when I attended Party for the Senses. I didn't know that it was there before that evening. I also have been to several media events for Disney Dining that were held inside World Showplace that were not open to the general public.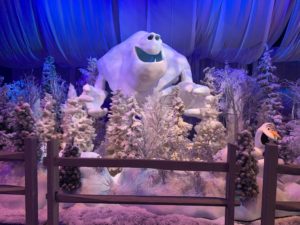 With the construction, much of Epcot is blocked off. World Showplace is a very large space, and it didn't make sense to keep it closed. Since the parks reopened in July there has been a lot going on inside. There have been food kiosks for both the Food & Wine Festival and Festival of the Holidays. There has also been live entertainment.
For the Taste of Epcot International Festival of the Holidays there is a lot taking place inside World Showplace! In addition to what I already mentioned, there are several fun picture opportunities. There is also a store with Festival of the Holidays merchandise. The space is large, and they are keeping an eye on the number of people who enter at one time.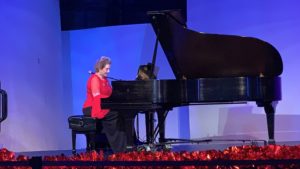 There is one other important reason why you will want to stop by World Showplace during Festival of the Holidays. For 2020, it is the home of the Gingerbread Capital City! This is something that you don't want to miss, especially since there are no gingerbread houses at the resorts this year.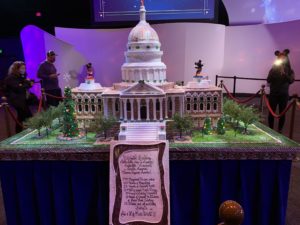 We already know that World Showplace will be a destination during the Taste of Epcot International Festival of the Arts. Art Defying Gravity and the Epcot Pianist are both scheduled to entertain inside. Festival Favorites will also be served inside, which means more delicious treats. While we don't yet have too many details about next year's Taste of Epcot International Flower & Garden Festival, I am sure that World Showplace will play an important part.
I expect that World Showplace will be utilized quite a bit for a while, even once the current restrictions are lifted. Right now there isn't really another place that can be used as "Festival Central", so to speak. Once the construction walls are down it will be a different case, but World Showplace works for now.