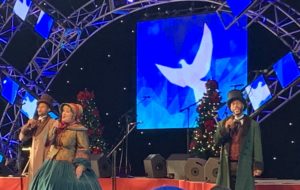 This year Voices of Liberty has been performing in the America Gardens Theater at Epcot. As you would expect, it is a fantastic show. I've seen it more than once and I've enjoyed every note! If you would like to see Voices of Liberty – Voices of the Season for yourself you can, but there is a catch.
Disney Parks Blog is going to air the final performance of the day tomorrow, December 15, at 6:10 Eastern. You will be able to find it on the Disney Parks Blog homepage. I will do my best to add the link to the Disney Over 50 Facebook page as well.
Now for the catch. You will need to watch the performance live if you want to see it. The show will not be available to view after it is over. Make sure you set an alarm or alert (I already did) because you don't want to miss this.
I'm happy that you'll be able to enjoy the performance, no matter where you are. There is something special about Voices of Liberty, and Voices of the Season is sure to get you into the holiday mood. I'm kind of bummed that we won't be able to watch it again later, but I'll take what we can get right now.