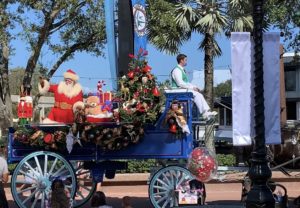 You guys know me, I love the Character Cavalcades at the theme parks. Each time I see one I end up pulling out my phone to record it yet again. The cavalcades are great because we can see characters safely, and for the most part we don't have to worry about a crowd gathering. I am pretty good at catching the cavalcades; except at Epcot. Seeing a cavalcade is much harder there.
I've been to the Taste of Epcot International Festival of the Holidays several times since it started. In all these times I have seen two cavalcades. The first was Santa, and the second was so far away that I'm not even sure which cavalcade it was. I just know that it was there.
I think that there are a couple of reasons why it's harder to catch the cavalcades at Epcot. The first is because they do not do a full loop. When Epcot reopened they would travel all the way around World Showcase, but that didn't last. There are several start and stop points, so if you aren't in the right place at the right time you won't see a cavalcade.
Another reason is because of the way that the cavalcades run. Disney's Animal Kingdom is the ideal location because they just float along the Discovery River. At both the Magic Kingdom and Disney's Hollywood Studios, there are sidewalks for guests to stand on, so it is easy to clear the street. At Epcot, the cavalcades run right through the middle of the crowd. It is not ideal for anyone.
Speaking of crowds, that's another thing to keep in mind with the Character Cavalcades at Epcot. I was at the park on December 5 when it was at capacity. It was packed. People were social distancing (for the most part), but if they had to suddenly get out of the way because of a cavalcade then everyone would be on top of each other. That's probably why I didn't see one cavalcade the whole time I was there.
The idea of the Character Cavalcades at Epcot is a great one. Is there anything that feels more "Disney" than a horse drawn carriage filled with princesses? It should work, but space doesn't really allow it. Plus it's easy to get stuck behind a cavalcade if you're trying to walk through World Showcase. In the early days that happened to me several times. I couldn't pass, and there was no way around the small parade. This was a problem on days when it wasn't crowded, I can't imagine what it would be like at current capacity.
It's my hope that eventually Epcot will have character cruises that are closer to what we see at Disney's Animal Kingdom. We could see the characters on the water, and Disney would not have to worry about dispersing the crowd walking through World Showcase. I'm glad that right now there are other places to see characters at Epcot. The past few times that I've been there Mary Poppins has been in the United Kingdom, and the characters at Garden Grill Restaurant have taken time to wave to people in The Land. There is also always Joy and Winnie the Pooh near Journey Into Imagination With Figment. I love that spot today as much as I did the first time I saw it; maybe even more.