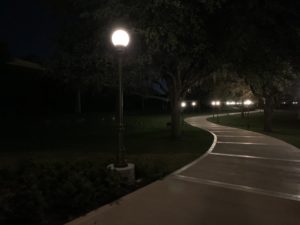 Not too long ago I told you about the new walking path between Disney's Grand Floridian Resort and the Magic Kingdom. It recently opened, and it provides an easy way to get from the resort to the world's most famous theme park. A couple of nights ago, my daughter and I were at the Magic Kingdom, and we decided to walk to Disney's Grand Floridian Resort to see the Christmas decorations. There were a couple of cool surprises along the way.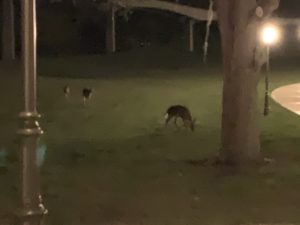 The first surprise felt like it was right out of Cinderella. A family of three deer ran across the path and towards the woods on the other side! We were careful to not spook them, and they watched us with great interest. I think that they were more cautious than afraid. I couldn't get a good picture because there wasn't enough light, and I didn't want to turn on the flash. I've seen plenty of wildlife while walking at Walt Disney World, including bunnies, mice, birds of all shapes and sizes, raccoons, feral cats, and (unfortunately) snakes. This was the closest we've been to deer in a long time, and the first time I've seen them while we were walking.
After we finally walked away from the deer we approached the first of the bridges. I told you before that you can see the barges for the Electrical Water Pageant from the bridge. As I went to point them out to my daughter, we realized that the lights were on. Not every barge had the lights on, and we couldn't tell which floats we were looking at. Still, it was nice to see even a small part of this classic attraction. I hope that this means that it will be brought back soon!