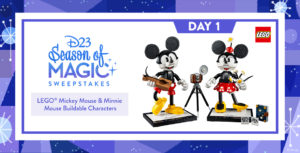 D23, the official fan club for all things Disney, is holding a new sweepstakes. I normally tell you about these things on Sundays, but if I wait that long you'll miss several chances to win! This is called the D23 Season of Magic Sweepstakes. There is a prize every day for 23 days!
The prizes range from around $179 to $400 in value. I'm not going to list the prizes here, I figure if you're interested you'll check back daily. I will repost the link from time to time to remind you.
You can enter once a day. You need to be a D23 member in order to enter, but General Membership is free. You can join D23 here.
All drawings for a week will be held on one day. The first round of winners will be chosen on December 10. I'm assuming that the next seven drawings will be held one week later. You can enter the D23 Season of Magic Sweepstakes here. Good luck! If you win, let me know. I would love for a Disney Over 50 reader to win because I told him or her about a contest.