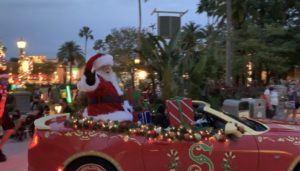 As I told you a couple of days ago, we're about to hit a cold snap here in Central Florida. When I woke up this morning (November 30) it was fairly gloomy out and very humid. There were a couple of strong early downpours. Those have moved out, and it's now a beautiful day in the Orlando area.
Tomorrow we are not supposed to reach 60 degrees. The low temperature will be just a few degrees above freezing! According to the forecast, we'll have several nights where the temperature dips down into the 40s.
Each year when we hit a cold snap here in Florida, I'll notice that two things happen. First, I'll see people who aren't having a good time at the theme parks because they are cold. They never thought that they would need a warm coat in Florida! They will either try to grin and bear it, or they will run into a gift shop. There is a reason why many gift shops will have a rack of hoodies near the entrance if it's cold out.
The second is that people from colder parts of the country will make fun of Florida on Facebook. I'm from Massachusetts, I get it. The difference, though, is that you don't plan on spending a whole day outside in New England without the right coat. Plus people move to Florida to get away from the cold, I can say that from experience.
There is one thing to keep in mind that many people don't even think about. 35 degrees in Florida really isn't the same as 35 degrees in North Dakota. Florida is a humid state. Even when the humidity level is down there is a lot of moisture in the air. In the summer the humidity makes you hotter. When it's cold out, it's a cold moisture that you will feel on your skin. One of the coldest people that I've met since we moved to Florida had recently moved here from New Hampshire. It was about 45 degrees out, and she couldn't believe how hard it was to handle it!
Cool and cold days are great times to go to the Walt Disney World theme parks, but make sure you're prepared. I will always throw an extra sweatshirt into my bag when the temperature is going to dip. This time of year is the perfect time to dress in layers. It can still feel warm during the day because of the sun, but you will notice the difference after the sun goes down! Or after the three suns go down if you're on Batuu…