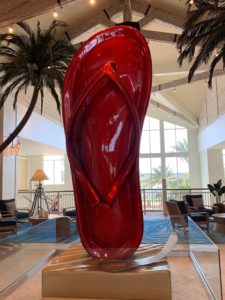 Margaritaville Resort is located in the heart of the action. It's right off of Route 192 (Irlo Bronson Memorial Highway) and just a couple of miles from the Walt Disney World entrance. It is a beautiful resort. If you stay there you have access to Island H2O Live Water Park. Sunset Walk is a new shopping and dining area that often has live music in the evenings. If you miss Bongos at Disney Springs, Gloria and Emilio Estefan moved it to Sunset Walk. It's now called Estefan Kitchen, and many of the Bongos staff members made the move with them. I'm not sure how many stayed through the pandemic, I hope all of them are still there. It is a fun restaurant.
If you're looking to save, Margaritaville has a couple of limited time deals that you might want to consider. Through tomorrow (Cyber Monday) you can receive 30 percent off, plus a $50 resort credit. Use the checkout code THANKFUL2020.
If you miss that sale, you can still save. Tuesday through Friday you can save the same 30 percent. The resort credit is gone, but that's still a good deal. The code for this one is CYBERWEEK2020. The dates for either deal are flexible, and they will work with you if you need to cancel or reschedule.
There is also a deal on tickets that you buy through the resort. You can save $100 on two tickets of your choice. The code is TIXCREDIT. I'm not sure how long this deal goes for, so if you have questions you should call 407-479-0968. You can also buy your discounted tickets when you call, it doesn't have to be through the website.