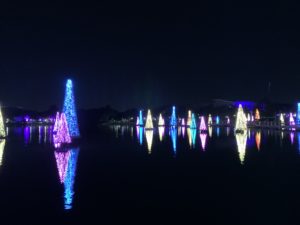 Walt Disney World is glorious for the holidays, but they aren't the only game in town. Nearby SeaWorld Orlando is a great place to visit if you need some holiday cheer. It's called Christmas Celebration, and that's the perfect name for it.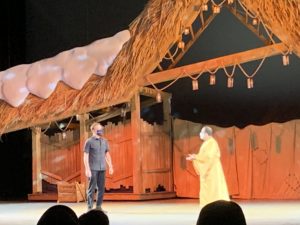 This year things look a little bit different, but not as different as you might think. There are still shows, but the theaters aren't being filled. There are markers on the seats to keep parties a safe distance from each other. The shows take into account the safety measures that are so important right now. The performers wear masks and remain apart. One new show this year, It's a Wonderful Night: A New Story to Tell includes jokes about plexiglass and staying socially distant; as it retells the story of the birth of Jesus.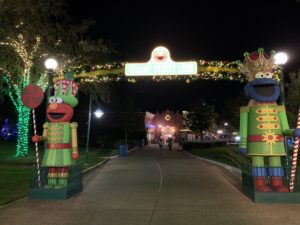 While some aspects of Christmas Celebration take place during the day, it's after dark that SeaWorld shines, literally. Over three million lights sparkle and glow through the park. It's not covered with lights like the Osborne Family Spectacle of Dancing Lights used to be. Instead, it's trees, garlands, and other decorations.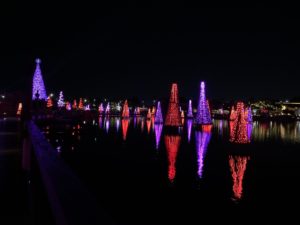 My favorite part of Christmas Celebration is the Sea of Trees. There are over 300 trees in the water, and every few minutes they will "dance" to the music. There's one large tree in the middle, and it joins in on the fun. Don't worry if the trees aren't dancing when you walk by, it will happen again soon. Even if the lights are not changing you will love the Sea of Trees. It's beautiful.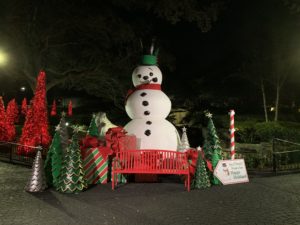 There are picture opportunities as well. There are photo spots throughout the park. If you're hoping to see Santa this year, it's possible at SeaWorld. You can join him in his sleigh and get that picture, while you stay a safe distance apart. Rudolph and the gang are back as well.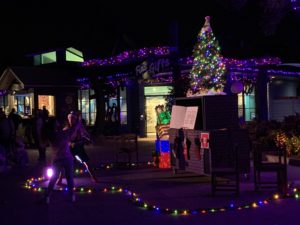 There are plenty of other things to keep you busy this year. You can ice skate, enjoy seasonal treats, or watch street performers. For an extra charge you can enjoy breakfast with Sesame Street characters or dinner with Santa. These spots often fill up early, so don't delay.
Christmas Celebration at SeaWorld is included with your theme park admission. I've told you before, buy your tickets online and save. Check the hours, because they do vary, and there are days when the park remains closed. Christmas Celebration runs through December 31. You can ring in 2021 with fireworks at midnight on the last day! Reservations are required to visit SeaWorld, and there could be days when the park reaches capacity.